Volunteer in South Africa
Providing care and support to orphans
Atteridgeville, Gauteng August 6 - August 20, 2018
Volunteer project: Volunteers in this project will help provide support and care to orphans and improve their emotional state and their level of acceptance through daily routines at an orphanage home in Atteridgeville near Pretoria.
The Home provides a caring environment for children that are at their most vulnerable. Their mission is to render services and programs that are in the best interest of each individual child. The main focus currently is to create better opportunities for the children to develop in a stable and caring environment, and to improve their life skills. 44 children aged between 6 and 19 reside at the Home on a full time basis. The children attend regular workshops on various topics including hygiene, health matters and ethics amongst others. The children have an abundance of talent. They have violin classes, they are great chorists and are excellent gumboot dancers. Music is a great way of teaching the children about life, and also provides them some escape from their own experiences.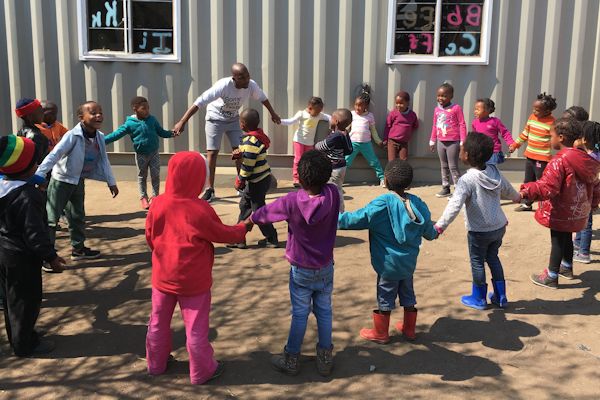 Volunteers will get involved in first hand activities such as baby minding, cleaning the home and other activities as needed. The team will also run a multi-cultural exchange program for the children with the help of art, music and dance. A final show (party) is planned for the last Saturday night (1-2 hours long) including performance of the kids with music and dances prepared during the 2 weeks of the project, short surprise performance by the volunteers for the children and free dancing session moderated by the volunteers.
Child Abuse is rife in South Africa and unfortunately not nearly enough is being done to protect the children. Abuse and poverty are the main contributing factors to street children and abandoned baby statistics in the country.
Volunteer profile: Volunteers are expected to be open minded and the Doer type, ready to stand out in front of the others and coordinate the children. Any knowledge of musical instrument, singing or dancing is highly welcome.
Leisure time: Weekends are meant for free tours that the group can organize by themselves. There will be also cultural nights when each volunteer can present their country and culture.
Language: English
Accommodation: Accommodation will be in rooms at the center. Participants are required to bring their own sleeping bags.
Location: Atteridgeville is a township located about 15 km west of Pretoria. The community is multi-cultural and English is mostly spoken along with local languages such as Sotho, Zulu and Tshwana to name a few.
Terminal: Pretoria
Age range: 18 and over
Extra fee: 220 Euro
The extra fee is intended to support the local host of the project who does not have sufficient funds. It is due upon arrival.
More projects in South Africa