Volunteer in South Africa
Soccer power for social change
Zimbabwe, South Africa and Lesotho November 1 - November 30, 2019
Volunteer project: This project takes place in three countries - Zimbabwe, Lesotho and South Africa.
Soccer is a very special sport since it crosses all the boundaries of language, culture and geography. While almost everyone on this planet knows of, plays or has watched others play soccer, aside from goals scored and long-standing team rivalries, rarely do we hear about the more important value and ability of this and other sports to effect positive social change. This initiative aims to utilize "soccer power and influence" to keep young men and women engaged meaningfully in the community and increase their ability to deal with various challenges affecting them including poverty, drug addiction, HIV/AIDS endemic, etc.
Volunteers are expected to participate in the following activities:
• Development of young players' basic skills and techniques. This will include coordinating coaching sessions around topics such as development of ball control, accurate passing, keeping possession, game tactics, and moving into space
• Assist to plan match strategies and take practice games
• Assist in team selection and to be 'on the bench' for weekend or evening matches
• Organize the final competitions and awarding.
• Use sports to increase awareness on various challenges affecting young people such as unemployment
Special requirements: No special or particular expertise/skills required. However a potential participant for this project should be open minded, flexible, ready to learn and adapt to other cultures, interested in physical/outdoor activities, sports, youth, and able to work under less supervision and minimum resources.
Leisure activities: Exploring Pretoria's historical, natural and cultural sites including museums, local markets, etc. Enjoying wildlife and marine life. Kruger National Park, tour to small animal reserves, variety of water sports, among many other options.
Language: English
Accommodation: Volunteers will be accommodated in a communal house in the community, in shared rooms.
Location: The project will be hosted for the first two weeks in Harare, Zimbabwe, next two weeks will be hosted in Mabopane-Gauteng, South Africa and the last week in Maseru, Lesotho.
South Africa: Mabopane was proclaimed in 1959 as a black-only residential settlement by the then Transvaal administration. Before its proclamation the area was under the administration of Transvaal government little more than grazing lands with small communities in Boukenhoutfontein (which later became Block A), Winterveldt and Hebron. The initial residents of Boukenhoutfontein were victims of forced removals from Wallmansthal, Lady Selborne, Boukenhoutkloof and other farm areas around Pretoria. Other residents of Mabopane were Mapulana people who were evicted from the farms near Primier Mine and settled in a non-developed area commonly called Mapulaneng, which is between Block A, Lebanon and Block U. With the financing coming from the South African government the first block houses were constructed similar to those found in Soweto beginning with Block A which had two roomed houses, Block B, Block C, Block D and Block E. The areas within Mabopane were planned according to the class of its citizens; for example Block D (with many mansions which housed the politically connected) in comparison to Block E (block–houses).
Terminal: Harare International Airport
Age range: 18 and over
Extra fee: 600 Euro
The extra fee is intended to support the local host of the project who does not have sufficient funds. It is due upon arrival.
Community service and promoting voluntarism in Pretoria
Pretoria, Gauteng December 2 - December 15, 2019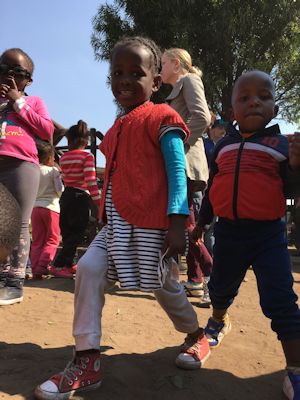 Volunteer project: The project activities will include community service in and around Pretoria and social work at an orphanage and old people's home.
This project is held in recognition of International Volunteer Day - December 5th. The main focus is to pay special tribute to volunteers' participation in making a difference locally and globally. It is a unique chance for local volunteers who contribute their time to bettering the Pretoria community to celebrate their efforts, share their values, and promote their work among their community and the international group of volunteers.
Giving local South African volunteers the opportunity to celebrate with people from different countries and cultures is an incredibly meaningful way to appreciate and honor their contributions.
Volunteer profile: No previous experience needed. Volunteers are expected to be open minded, ready to interact with other people of different cultural backgrounds; positive and willing to share their experiences; flexible to live/stay in simple living conditions and eat local food.
Leisure time: Weekends are meant for free tours that the group can organize by themselves. There will be also cultural nights when each volunteer can present their country and culture.
Language: English
Accommodation: Accommodation will be in a home in Pretoria. Participants are required to bring their own sleeping bags.
Location: Pretoria. The community is multi-cultural and English is mostly spoken along with some local languages such as Ndebele and Zulu.
Terminal: Pretoria
Age range: 18 and over
Extra fee: 220 Euro
The extra fee is intended to support the local host of the project who does not have sufficient funds. It is due upon arrival.
Long-term projects in South Africa