Volunteer in Thailand
Education for orphans and poor children in Khon Kaen
Khon Kaen December 9 - December 21, 2019
Volunteer project: Volunteers will help in a school for disadvantaged and poor children from the countryside of Khon Kaen. The school is under the royal foundation and offers education, food and accommodation to children who have no parents, children from poor families, and children from very remote areas. There are currently 829 students from primary to high school level (7-18 years old), who receive not only education but also a home at the school.
Developing an interest in learning English is crucial for these children and can benefit them significantly in the future. International volunteers play an important role in this process by providing fun and engaging English classes and cultural exchange activities.
Volunteers will teach English to school children aged 7 to 18 years. They will prepare basic English lessons and easy conversation topics. Volunteers are expected to be creative and use activities such as games, songs, storytelling, art, performance to encourage English practice and communication. Teaching certificate is not required but motivation, creativity and enthusiasm for teaching are important.
Volunteers can also join after-school activities with the students. This would be a good opportunity for cultural exchange, sharing experiences and building friendships with the kids.
Leisure activities: Khon Kaen province houses a number of historical, cultural and natural attractions. Volunteers can visit the Ba Luang Waterfall Forest Park and the Phu Wiang Dinosaur Museum. The beautiful Ba Luang Waterfall is located in the Dongmoon National Forest and is full of water year round. The water cascades over sandstone boulders to create a unique stair-like face. The Dinosaur Museum is part of a fossil research center located in the Phu Wiang area of Khon Kaen province where numerous fossils of Carnosaurus, Siamosaurus, Tyrannosaurus and other species dating back to the Jurassic period have been excavated.
Language: English
Accommodation: Volunteers will stay in the school dormitory or in the teacher's house in the school. Please, bring your sleeping bag.
Location: Khon Kaen
Terminal: Khon Kaen
Age range: 18 and over
Extra fee: 9,500 Thai Baht (about $300 US)
The extra fee is intended to support the local host of the project who does not have sufficient funds. It is due upon arrival.
Teaching English and cultural exchange with rural people in Songkhla province
Songkhla December 1 - December 14, 2019
Volunteer project: The project takes place in the rural area of Songkhla province, Southern Thailand in the small village called Ban Ton San (Ban in Thai means "village"). The main occupation of the locals is rubber plantation and most of the villagers are Buddhists. The life in the village revolves around Community Living, Learning by Doing and Cultural Diversity.
The first week, volunteers will be involved in different activities supporting the community:
• English teaching – Creative teaching through games, songs, storytelling, art or performance, to encourage local people to speak English and get a feel of different cultures.
• Renovation – The Community and learning center in the village needs some renovation and maintenance. The volunteers will clean the rooms and meeting area, and will continue the construction and painting work started by previous groups. Local villagers will teach the volunteers and will help with the construction. This is a good opportunity to learn the Thai way of building. Also, the volunteers can make chairs for the center.
• Building relationships with the villagers – Besides the main tasks, an important part of the project is the cultural exchange, learning and sharing with the local people. The volunteers will be visiting them to chat and do activities together. This will be an enriching experience for all.
• Kitchen garden – The volunteers will work in the small kitchen garden, doing some renovation and planting vegetables.
During the second week, the group will work on a farm. Volunteers will learn about farming and will help with the farm work (taking care of cows, pigs and chicken, preparing soil, planting vegetables).
There will be also a special topic (Banana / Coconut) for the groups in the second week. Volunteers will learn how to use local and nature-sourced products, avoiding chemicals and living sustainably. Traditionally Thai people use bananas and coconuts in daily life, and the volunteers will learn from them about the different uses.
Groups in May, July, September and November will learn about Banana: cooking with bananas, using banana leaves to cover food instead of plastic, using banana tree to pay respect to the river, etc.
Groups in June, August, October and December will learn about Coconut: how to make coconut milk, using coconut branches as a broom, using coconut leaves to play as toys, etc.
Special requirements: Respect for other cultures, open mind and love for learning and sharing.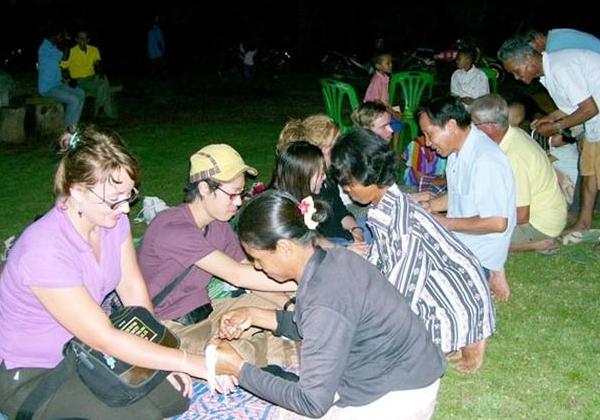 Leisure time: There are many beautiful tourist attractions in Songkhla province. Volunteers can visit the Hat Yai Municipal Park, Samila Beach and Songkhla Old Town. Hat Yai Municipal Park is the biggest public park in Hat Yai city where local people come to relax. There is a majestic statue of Standing Buddha on the top of the Ko Hong hill from where you can see the beautiful view of the entire Hat Yai city. Samila Beach is the main beach of Songkhla province. There you can see the Golden Mermaid which has been the symbol of Songkhla for over 50 years, the Cat and Mouse, and hear the wonderful stories about the beach and the statues. Songkhla Old Town consists of nicely preserved architecture of various styles, old temples, beautifully decorated walls, and great places to eat.
Language: English
Accommodation: The volunteers will stay at the learning center in a Thai style dormitory (natural environment, basic and simple). Please, bring your sleeping bag.
Location: Ban Ton San, Khlong Hoi Khong District, Songkhla Province
Terminal: Hat Yai International Airport, Hat Yai Train Station, Hat Yai Bus Station
Age range: 18 and over
Extra fee: 9,500 Thai Baht (about $300 US)
The extra fee is intended to support the local host of the project who does not have sufficient funds. It is due upon arrival.
Long-term projects in Thailand