Volunteer in Thailand
Teaching English and cultural exchange with rural people in Songkhla province
Songkhla June 1 - June 14, 2020
Volunteer project: The project takes place in the rural area of Songkhla province, Southern Thailand in the small village called Ban Ton San (Ban in Thai means "village"). The main occupation of the locals is rubber plantation and most of the villagers are Buddhists. The life in the village revolves around Community Living, Learning by Doing and Cultural Diversity.
The volunteers will be involved in different activities supporting the community:
• English teaching – Creative teaching through games, songs, storytelling, art or performance, to encourage local people to speak English and get a feel of different cultures.
• Renovation – The Community and learning center in the village needs some renovation and maintenance. The volunteers will clean the rooms and meeting area, and will continue the construction and painting work started by previous groups. Local villagers will teach the volunteers and will help with the construction. This is a good opportunity to learn the Thai way of building. Also, the volunteers can make chairs for the center.
• Building relationships with the villagers – Besides the main tasks, an important part of the project is the cultural exchange, learning and sharing with the local people. The volunteers will be visiting them to chat and do activities together. This will be an enriching experience for all.
• Kitchen garden – The volunteers will work in the small kitchen garden, doing some renovation and planting vegetables.
Special requirements: Respect for other cultures, open mind and love for learning and sharing.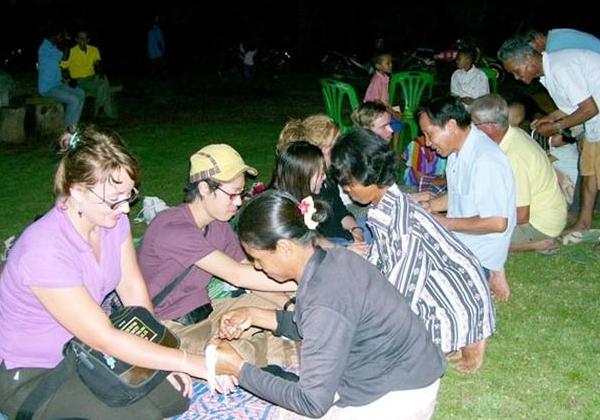 Leisure time: There are many beautiful tourist attractions in Songkhla province. Volunteers can visit the Hat Yai Municipal Park, Samila Beach and Songkhla Old Town. Hat Yai Municipal Park is the biggest public park in Hat Yai city where local people come to relax. There is a majestic statue of Standing Buddha on the top of the Ko Hong hill from where you can see the beautiful view of the entire Hat Yai city. Samila Beach is the main beach of Songkhla province. There you can see the Golden Mermaid which has been the symbol of Songkhla for over 50 years, the Cat and Mouse, and hear the wonderful stories about the beach and the statues. Songkhla Old Town consists of nicely preserved architecture of various styles, old temples, beautifully decorated walls, and great places to eat.
Language: English
Accommodation: The volunteers will stay at the learning center in a Thai style dormitory (natural environment, basic and simple).
Location: Ban Ton San, Khlong Hoi Khong District, Songkhla Province
Terminal: Hat Yai International Airport, Hat Yai Train Station, Hat Yai Bus Station
Age range: 18 and over
Extra fee: 9,500 Thai Baht (about $300 US)
The extra fee is intended to support the local host of the project who does not have sufficient funds. It is due upon arrival.
Long-term projects in Thailand