Volunteer in India
Teaching, raising environmental awareness and renovating schools in Jaipur
Jaipur, Rajasthan August 20 - September 2, 2018
Volunteer project: Jaipur, the fascinating capital of the marvelous state of Rajasthan, is one of the best planned cities of its time. The graceful architecture of the city, all in the colour pink, has earned Jaipur the title of "The Pink City". Jaipur is predominantly known for its musicians, artisans and craftsmen. Today, tourists flock to the city attracted by its fine jewelry, varied textiles and sumptuous cuisine.
The purpose of the volunteer project is to create awareness on environmental issues affecting this city, to create better learning facilities for school kids, and to provide community service to slum dwellers and poor children.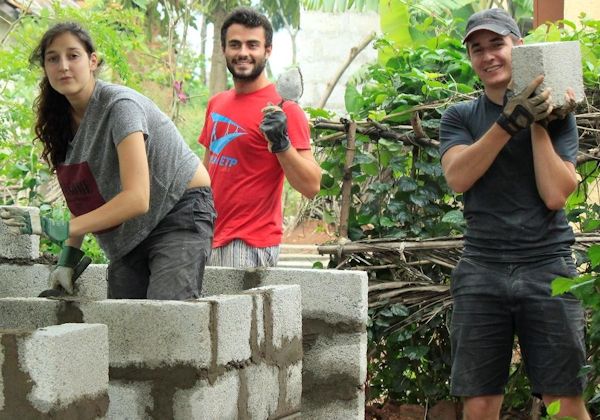 The project involves teaching basic English to children from poor and marginalized communities in non-formal schools through creative teaching methods like art, music, games, etc. The volunteers will undertake simple renovation work to improve school infrastructure including renovation of a school kitchen, wall painting and making a kitchen garden. The group will hold meetings with the local community to promote health, hygiene, and awareness on environmental issues. Volunteers will also plant trees along with community members.
Leisure activities: Visits to cultural, historic and religious sites; Cultural exchange with the community; Interaction with children from the slums.
Language: English
Accommodation: In a guest house or hostel, in shared rooms with bunk beds. South Indian vegetarian and non-vegetarian food will be provided for breakfast, lunch and dinner. Safe, filtered water is available for drinking.
Location: Jaipur is located 268 km south of Delhi, the national capital and is well connected to other parts of the country through air, rail and road. Jaipur International Airport is located 13 km from Jaipur. Jaipur is well connected by bus and trains to most of the major cities in India. Regular buses are available from Delhi and other cities in North India.
Age range: 18 and over
Extra fee: 16,000 Indian Rupees (about $250 US)
The extra fee is intended to support the local host of the project who does not have sufficient funds. It is due upon arrival.
More projects in India