Volunteer in Iceland
Reforestation and environmental maintenance in the heart of the Golden Circle
Fludir 2 projects of 2 wks in June
Volunteer project: This project will take place in the small community of Flúðir which is located in the middle of the Golden Circle in the south of Iceland. In the area you can find some of the historic places in Iceland, for example Thingvellir which is by far Iceland's most famous historic site and one of the two places in Iceland on the UNESCO World Heritage List. The Alþingi, or general assembly, first met there in AD930, and continued to do so for nearly nine centuries until 1798. Various important events in the Icelandic Sagas took place at Thingvellir, and in 1930 it was declared a National Park.
Nowhere on Earth is the junction between the European and American tectonic plates in the Earth's crust as clear as in the southwest, and at Thingvellir. The plates diverge here by as much as 2 cm per year, but the gap is constantly being filled, as volcanoes have been erupting regularly throughout Iceland's history.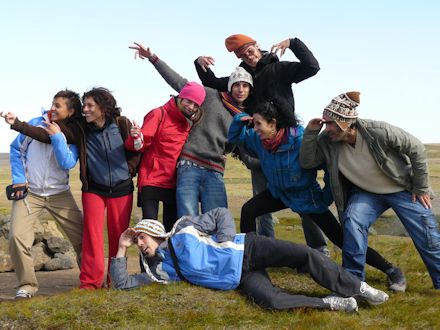 The region also has other attractions: places of outstanding natural beauty include magnificent waterfalls, of which Gullfoss (Golden Falls) is the best known. In many geothermal areas, villages have grown up, where exotic fruits and vegetables are grown in greenhouses heated by hot springs. The best known hot spring is Geysir, from which derives the English word "geyser" for spouting hot springs: the big Geysir is surrounded by many more springs of all shapes and sizes.
A little further east are two of Iceland's most active volcanoes. Mt. Hekla has erupted about 20 times in Icelandic history, and Mt. Katla, under the Mýrdalsjökull glacier, is almost as active. Many years have now passed since Mt. Katla last erupted, and according to geoscientists, it is long overdue for another burst of activity.
The volunteers will be working with the environmental department of the community. Most of the work will consist of planting trees and taking care of the environment in the surrounding area.
Our work will also depend on weather conditions, which is why we have to be flexible. This is a perfect project for people who like outdoor work and challenges.
Language: English
Leisure time: The volunteers have free access to the local geothermally-heated swimming pool in the area. Traditionally, natural pools have played an important social role in Icelandic culture. Most Icelandic pools offer indoor and outdoor swimming, as well as hot tubs and saunas or steam rooms.
Reasonably-priced weekend excursions can be organised to some of the most popular, beautiful areas and natural wonders that Iceland has to offer. Excursions include unique Icelandic sights such as glacial lagoons, waterfalls, volcanic and geothermal areas, glaciers, geysers, lava forests, hot-springs, rhyolite mountain ranges, steam-vents, or even icebergs.
Accommodation: The volunteers will be staying at a local school. They need to bring their own sleeping bags, but mattresses are provided. Wireless internet access is provided free of charge.
Location: Fludir, in the south of Iceland
Terminal: Flights arrive at Keflavik International Airport (KEF), just south of Reykjavik.
Age range: 18 and over
Extra fee: 250 Euro
The extra fee is intended to support the local host of the project and is payable upon arrival.
All available dates for this project:
June 10 - June 20, 2018
June 20 - June 30, 2018
More projects in Iceland