Volunteer in India
Protection of the World Heritage Site at Hampi
Hampi, Karnataka August 3 - August 16, 2020
Volunteer project: Once upon a time, Hampi-Vijayanagara, located in central Karnataka, was the world's second-largest medieval city after Beijing, and India's richest, attracting traders from as far as Persia and Portugal. Hampi fell into ruins when the Vijayanagara Empire was defeated and pillaged by a coalition of Deccan Muslim sultanates in 1565. It is now a UNESCO world heritage site, visited by thousands of travellers due to its breathtaking temples, intricate sculptures and monuments, which give an insight into the splendour and architectural skills of the ancient Hindu kingdom.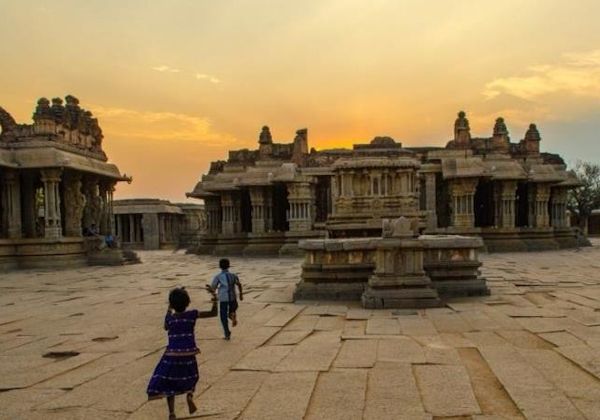 Hampi attracts thousands of tourists and pilgrims every year. Vast stretches of boulder-strewn hills make the backdrop of Hampi unique. Dotted around the hills and valleys are over 500 monuments. Among them are beautiful temples, basement of palaces, remains of aquatic structures, ancient market streets, royal pavilions, bastions, royal platforms, treasury buildings, etc. Hampi is a backpacker's paradise - every monument hides more than it reveals.
The project in Hampi will focus on the protection of the cultural heritage and the sites of historical importance and on creating awareness among the locals, school children, tour guides and tourists, to instill a sense of responsibility towards the protection of these priceless monuments. We've been running the projects in Hampi for the past 10 years with the cooperation of UNESCO World Heritage Centre, the Archaeological Survey of India and local associations. Here, you will help to convert dry areas into beautiful, restful spots by planting trees and flowering plants. Street plays to create awareness, creativity, physical work and archaeological delights are all hallmarks of this unique project.
Join us and take part in the following activities:
• Scale up your knowledge on historical monuments of India, attend an introductory session with archaeology and heritage conservation officials, interact with officials from the Indian National Trust for Art and Cultural Heritage
• Clean up the scrub around monuments dating back to 1 CE, to preserve and maintain their beauty and cultural heritage
• Help to combat global warming and also create pleasant, green spots by planting trees and flowering shrubs
• Awaken your thespian skills with a Street Play, to create awareness of heritage conservation to the locals
• Conduct a drawing competition for school children, help showcase their talent by setting up an open gallery
• Instill national pride in school children, make them aware of their rich cultural and historical heritage
• Install garbage bins in the community, help manage waste
• Use your creativity to educate the public on heritage conservation, paint murals in public areas
Leisure activities: Some of the fun things to do at Hampi are taking a coracle ride in the nearby Tungabhadra river. These round cane boats have been a mode of transport here since the 15th century. You can also rent a bicycle and take the trail down to any of the interesting ruins, go bouldering or trekking.
Some must-visits are Vijaya Vittala, the extraordinary architectural marvel with 56 musical pillars, which create melodic sounds when tapped delicately, the stunning Virupaksha and Krishna temples, the Royal Enclosure with the Queen's bath and Lotus Mahal (palace).
Anegundi, or Kishkindha, the capital of the Vijayanagar empire is a fine repository of Neolithic history and prehistoric rock art, represented by Mourya Mane, a several-thousand-year-old Stone Age colony. You can visit the birthplace of Hanuman, the monkey god, or peek at the ancient elephant stable, where the city's elephants were fed, bathed and trained for battle and other activities.
Language: English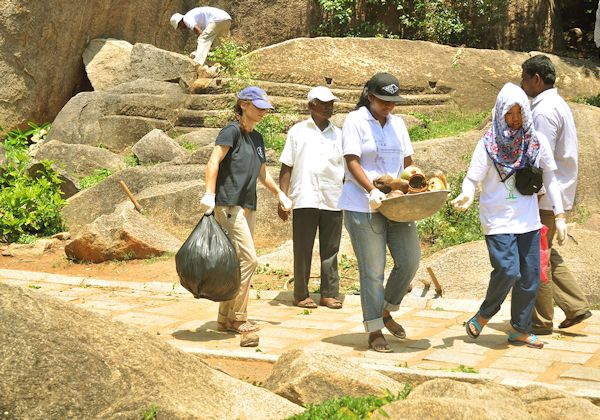 Accommodation: In a guest house or hostel, in shared rooms.
Location: Hampi is located in the state of Karnataka, 350 km north of Bangalore and 13 km from Hospet. Hampi is accessible by bus from Bangalore and Goa. The nearest railway station is in Hospet. The nearest international airports are Bangalore, Mumbai and Panjim.
Age range: 18 and over
Extra fee: 17,500 Indian Rupees (about $245 US)
The extra fee is intended to support the local host of the project who does not have sufficient funds. It is due upon arrival.
More projects in India