Volunteer in Iceland
Reforestation and trail maintenance in Vopnafjordur
Vopnafjörður June 15 - June 29, 2019
Volunteer project: The volunteers will be working on a project in the beautiful area of Vopnafjörður located in Northeast Iceland. We will be working together with the local municipality of Vopnafjarðarhreppur. The main tasks participants will be performing will be helping the locals in their reforestation efforts and possibly participate in maintenance of the walking paths in the existing forested areas.
The working day normally runs from 9:00am to 5:00pm with breaks for lunch and coffee. No previous experience is necessary but the work is demanding and might require a good physical condition. As it is outdoors work, volunteers shall be ready to adapt and be flexible with the working and free-time schedule as, depending on the weather, we may not be able to perform some of the tasks or activities planned. Volunteers need to be motivated to work outdoors on physical jobs and under changing weather.
The project takes place around the summer solstice, when the sun hardly sets and the nights are almost as bright as the days. The bright nights are magical and staying awake enjoying the beautiful surroundings is a unique experience. During the time of the project, participants will have the opportunity to experience the midnight sun as there are 24 hours of light even if the sun sets for short periods of time.
Language: English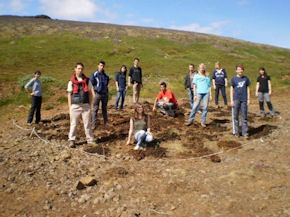 Leisure time: This project takes place in a very remote place, located in a natural area of extreme beauty. Outdoor free time activities, for instance hikes or walks in the surroundings, will be arranged for the volunteers.
Accommodation: Volunteers will sleep in beds in a lodging house. The house is fully equipped with a kitchen and a bathroom. Please bring your own sleeping bag.
Location: Vopnafjörður is situated in the far northeast of Iceland. The area's coastline is characterized by the Tangi peninsula, coastal rocks, islets, coves, river mouths, and black sand beaches. Vopnafjordur is one of the first areas people settled in Iceland. It is known for its salmon rivers and large areas of untouched landscape.
The village of Vopnafjörður is located on the Tangi peninsula in the middle of the bay. About 700 people live in Vopnafjordur. The main industries include fishing and fish processing, the service sector, and agriculture. Various walking trails around the fjord take visitors to the many natural wonders of Vopnafjörður.
Terminal: Closest international Airport: Keflavík/Reykjavík (KEF)
A minibus trip will be offered from Reykjavik to the project site and back. The minibus will travel one way along the Northern part of the country and the other along the South coast. This way, we will travel the whole ring road and stop at magnificent natural sights, including waterfalls, glaciers, volcano craters, hot springs, iceberg lagoons, black sand beaches, etc.
Age range: 18 and over
Extra fee: 250 Euro
The extra fee is intended to support the local host of the project and is payable upon arrival.
More projects in Iceland