Volunteer in Iceland
On the move against plastic pollution
Iceland July 14 - July 24, 2018
Volunteer project: During this project, the volunteers will travel around Iceland as part of a campaign to reduce the use of plastic and encourage people to recycle. The focus in many of this year's projects in Iceland will be on the following issues: 1) Visiting primary schools and kindergartens to give the youngsters basic lessons about why it is needed to reduce the use of plastic and the importance of recycling; 2) Cleaning up the coastline and rivers; 3) Clean up activities around Iceland where the priority is given to protected areas
Plastic is produced from non-renewable resources, it is essentially indestructible, and yet it is used and thrown away with reckless abandon. A lot of it ends up in the ocean, where it pollutes the water and harms marine life; the rest is burned or buried. Plastic in the marine environment contributes to an estimated 100,000 marine mammal deaths per year. It creates a risk of entanglement, and turtles and whales have been found to eat it. Plastic is also problematic for humans as, over time in the marine environment, it degrades into micro-plastic and enters the food-chain once it has been consumed by fish.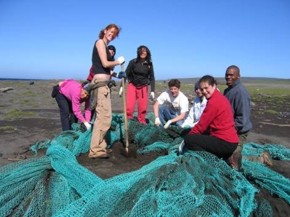 We will do a monitoring survey of marine litter in several places on the coastline and along rivers. We will clean up plastic in certain areas (positions to be recorded by GPS on a map) in different parts of Iceland and classify it in a standard form. We will make photos of the areas where the cleaning will take place.
This project provides us the standard methodology needed to produce some serious data. At the end, we will create a scientific data useful to know more about the plastic pollution in the oceans and on the coastline.
We will also do clean up activities in some protected areas and in other places along the Ring road of Iceland. During those activities, we will involve local people and visitors in our work.
In this project, we will drive over 1.400 km in a circle around the whole island. During the travel, we will also have a chance to visit some of the most popular, beautiful areas and natural wonders that Iceland has to offer. Some of these are unique Icelandic sights such as glacial lagoons, waterfalls, volcanic and geothermal areas, glaciers, geysirs, lava forests, hot-springs, rhyolite mountain ranges, steam-vents or even icebergs.
Special requirements: Volunteers with good computer skills, interested in scientific work and/or photographing are very much welcome to this project.
It is important that the volunteers are in good physical shape because we will do a lot of hiking and outdoor activities in this project.
Language: English
Leisure time: We will have free entrance to swimming pools. This camp is "On the move" so you will travel a lot and see beautiful places.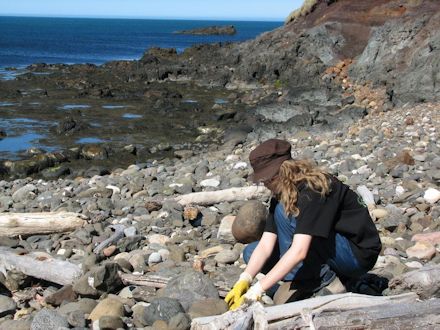 Accommodation: The group will be staying in community centres and in tents, depending on the location each time.
Location: Iceland
Terminal: Flights arrive at Keflavik International Airport (KEF), just south of Reykjavik.
Age range: 18 and over
Extra fee: 480 Euro
This fee covers also the transportation and extra accommodation costs of a full trip around Iceland, a total driving distance of nearly 1.400 km over several days. This travel is required in order to effectively carry out the study/visit part of the program.
The extra fee is intended to support the local host of the project and is payable upon arrival.
More projects in Iceland