Volunteer in Iceland
Forestry and trail improvement in the West
Stálpastaðaskógur 2 projects of 1 week in July
Volunteer project: The volunteers will be working on a project in the beautiful forest Stálpastaðaskógur in the south-west of Iceland, doing nature and environmentally oriented tasks. We have been cooperating with the Icelandic forest service and our groups of volunteers have been helping out for more than 10 years with very good results for the participants, the projects and the Icelandic nature conservation and reforestation efforts.
The main task at hand is maintaining and repairing footpaths within the forest. The volunteers will perform four different types of tasks depending on the project needs at the time: Fixing steps on an old footpath; Cutting tree branches; Removing vegetation from the path; and Putting a new layer of wood chips on the footpath. The main tasks will be to maintain and repair existing hiking paths and build steps/stairs. Other tasks may be to trim branches and beautify groves that are located near the trails.
Well maintained paths enable people to visit these amazing places without damaging the area and this important work also helps to improve safety for visitors. All work is done by hand with wheelbarrows and hand tools. Additional tasks may be cleaning or beautifying the area, like hand-picking garbage or collecting trash blown by the wind in the area and the surroundings.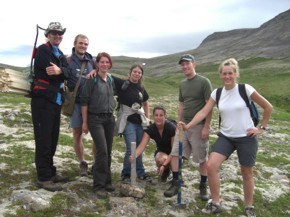 The working day normally runs from 9:00am to 5:00pm with breaks for lunch and coffee. No previous experience is necessary but the work is demanding and might require a good physical condition. As it is outdoors work, volunteers shall be ready to adapt and be flexible with the working and free-time schedule as, depending on the weather, we may not be able to perform some of the tasks or activities planned. Volunteers need to be motivated to work outdoors on physical jobs and under changeable weather.
Language: English
Leisure time: The project takes place in a remote place, in a natural area of extreme beauty. Outdoor free time activities, for instance hikes or walks in the surroundings, will be arranged for the volunteers.
Accommodation: Volunteers will be lodged in an old farmstead owned by the Icelandic Forest Service, which is located approximately 5 km from the forest. The house is the old garage at the farm which has been transformed into a summer house. There are beds for 7 people, a small kitchen, a dining and a living room, a shower. Volunteers will sleep on mattresses provided, but please bring a sleeping bag.
Location: The work will take place in the forest Stálpastaðaskógur which is located about 25 km from Borgarnes and about 3 km from Bifröst. In the area there are many interesting places to visit, the waterfalls Glanni and Barnafossar, hiking trails and Húsafell, a summer house area with a camp site, hot springs, glacier view, golf course and a swimming pool.
West Iceland is famous for its Sagas. Most of the Icelandic Sagas were written in West Iceland. Egils Saga, Sturlunga saga and Laxdæla are all stories of farmers, Vikings and outlaws in year 850-1000. In West Iceland you will also hear a lot of stories of elves and trolls and folk tales. The area is very charming with a lot of history.
Terminal: Closest international Airport: Keflavík/Reykjavík (KEF). Bus station: Central Reykjavík (BSÍ).
Age range: 18 and over
Extra fee: 250 Euro
The extra fee is intended to support the local host of the project and is payable upon arrival.
All available dates for this project:
July 8 - July 15, 2020
July 15 - July 22, 2020
More projects in Iceland