Protecting the Marine Turtles at Colola
Colola, Michoacan
March 11 - March 27, 2015
April 1 - April 17, 2015
April 22 - May 8, 2015
May 13 - May 29, 2015
June 3 - June 19, 2015
Volunteer project: For over 16 years, this project has been organized in the Turtle Camp at Colola Beach with extraordinary results. This project is the source of many beautiful stories; hundreds of volunteers from all over the world had participated. The aim of this project is to protect the marine turtles working in tight collaboration with the local population who lives in Colola Town or as they say "the place where dreams come true". Volunteers, along with local people, will realize activities to protect the turtles, and will help to ensure the survival of the turtles for the future generations. There are two species of turtles arriving to this area: Negra (Black Turtle) and Golfina (Olive Ridley Turtle). The size of the turtles varies from 1 meter to 1.5 meters long and the weight from 40 kg to 100 kg. Every turtle makes a nest of around 150 eggs. If you like nature, enjoy spending time in an astonishingly beautiful virgin beach far away from hotels and tourists, and are willing to witness the magic that nature had made for millions of years, this project is for you!
The main work consists in patrolling the beach at night, finding the adult turtles and collecting the eggs, burying them in a secure place (vivero in Spanish) and setting the baby turtles free back into the ocean. This must be carried out at night since turtles do not go out of the ocean during the day (because of natural predators, it is safer for turtles to get out of the ocean in the dark). In collaboration with local indigenous people from Colola, volunteers will seek for the turtles, taking care of their eggs and the baby turtles. Locals are very friendly and working with them is very pleasant as they explain to the group what to do. We need very motivated volunteers who really want to get involved in this project, willing to interact with the local people and their culture.
There are also some extra activities to do with the local people to help improve the town such as setting names to the streets or helping to arrange an all purpose playground for the children and maybe some cleaning tasks, but it depends on your initiative! Local people are very open to participate in other activities and volunteers can also propose their own initiatives, so your ideas will be welcomed!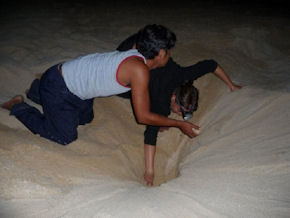 Language: The official language of the project is English but some Spanish would be appreciated.
Leisure time: There are many nice activities that can be done close to Colola Beach. For example you can visit Chicuasa, a small spot protected by reefs that make a natural pool where you can go swimming every day. It is also possible to discover other towns such as La Placita or Maruata. Also if you prefer, you can visit big touristic centers such as Ixtapa and Manzanillo for the weekend.
Accommodation: Volunteers will stay at the turtle camp in Colola, in a wooden construction, made of coco palm trees. It is safe and very fresh (needed, considering the warm weather at the beach!). There are wooden beds, a kitchen, a rustic bathroom and a place to stock food. There is electricity just enough to light some lamps. It is necessary to bring a sleeping bag. The place is basic but functional and it is located 20 to 30 minutes walking from Colola town. Colola is a small town but it has modern services such as internet access, medical services and telephone.
Location: Colola is located on the Pacific coast of Mexico. It's a remote place that offers an excellent opportunity to be close to nature, on a virgin beach, with no tourism around. The closest city is Tecoman.
Nearest airport: The biggest closest international airport is in Mexico City.
Age range: 18 and over
Extra fee: 180 Euro
The extra fee is intended to support the hosting organization who does not have sufficient funds. It is due upon arrival on the project.
My Trip to Colola, Michoacan, Mexico:
"The paperwork wasn't lying when they said you'd be sleeping in a palm hut! The beds are made of wooden boards, so it is behoove of you to bring a sleeping pad! The place itself is pretty secluded. Town is maybe 10-20 minutes walking distance from the camp. There are a few small stores with the bare necessities and a computer lab. Outlets in Mexico are the same as in the United States; the camp didn't have any but the town did have a few. Don't be surprised if you have horses, donkeys, or cows walking through the camp.
The locals work by the week; so each week you work with a different group of people. They always have at least one person there 'on watch'. Generally, depending on who their team leader was, we would start work between 2000 and 2100. Work would last 4-7 hours. One to two volunteers are usually assigned to a local. There are four zones on the beach; two of them are collecting and two are marking. Depending on who you work with and certain zones, you can mark the turtles with a metal tattoo / tag that contains a tracking number. The collecting zones involve waiting for the females to lay their eggs, helping move her out of the hole, measuring the length of the female's shell, noting if she has a tag, the time, zone, and digging up the eggs (anywhere from 1 to over 130) for transport. Once collected, the eggs are transported back to camp where they are buried and marked. There is also a group assigned to release. Once the babies come to the surface, you collect and count them before taking them down to the ocean for release.
Our group got up between 0900 and 1000 for a late breakfast. Some people went to the town for food, supplies, or internet. Others stayed at camp to read, clean up, nap, or enjoy the beach. Swimming is not authorized at the turtle camp; however, you could go just beyond the town and go swimming there. On the weekends we would usually go to a beach either farther east or west of camp for different scenery. There are some walls in the town that could use a nice mural or something on them… we didn't have time. A few of us did post signs along the road marking how close the camp was (500 m, 1000m, and 1500m). Don't be afraid to hitchhike, by far the cheapest and quickest way to get around.
The trip was an amazing time. I met some awesome people from all over- Finland, Wales, South Korea, France, Mexico, and the United States. I'd recommend this kind of volunteer project to anyone that loves the outdoors, beaches, and turtles! "
Natalie D.,
Cadip volunteer 2010
click here for mid-term projects in Mexico
click here for volunteer programs in other countries

FOR FULL, STARTED AND PAST PROJECTS, CLICK HERE