Social and recreation activities for the orphans of "Rodopski pansion" in Plovdiv, Bulgaria
Plovdiv July 3 - July 16, 2016
Plovdiv July 17 - July 30, 2016
Plovdiv July 31 - August 13, 2016
Plovdiv August 14 - August 27, 2016
Volunteer project: "Rodopski pansion" provides home and care for disadvantaged children at the ages of 6 to 18. Most of the children are orphans or abandoned, some have mild to medium levels of learning or mental disabilities. The home also provides support to families who are temporarily unable to take care of their kids. The parents are being encouraged and taught effective parenting skills while the children stay in the social home. The establishment also runs a Crisis center, which serves as an emergency shelter for abused and traumatized children or those from troubled families.
Another program of the Social home is for social and professional integration. It prepares for independent living 17 - 20 years old youths who grew up in this or other similar facilities throughout the country. During the day they attend vocational training courses, but the volunteers may meet and spend time with some of them in the evenings and weekends.
The socially disadvantaged background of most of the children is considered to be the reason for many problems, which they face in school, in their contacts with other people, in their everyday life. That's why the interaction with other young people from different countries while working, playing, learning together in the frame of an international volunteer project effectively supports their socialization and adapting to life in mainstream society.
The main objective of the project is establishing intercultural social contact between the children of Rodopski pansion and the group of international volunteers from all parts of the world, as well as improving children's communication skills.
The establishment has recently started a new program working with children with autism. The program involves both residents of the orphanage and children with families in town. Volunteers who are interested or have previous experience working with autistic children are very welcome to join these particular activities.
The social project in Plovdiv consists of four consecutive workcamps, each with a duration of two weeks. Depending on the availability of free places, a volunteer may join more than one project. Keep in mind that a short-term volunteer workcamp is a very dynamic and emotionally intense experience and requires higher personal commitment, comparable to that in longer volunteer projects.
Volunteer activities: The volunteers will work with two separate groups of resident children. The first group includes 18 children at the age of 6 to 12 with mild or moderate learning or mental disabilities. The volunteers will take the kids to short walks outside, organise and play games, take them to a swimming pool, etc.
The second group consists of 16 children up to 18 years of age, who are orphaned, abandoned or separated from their families. The volunteers will help organise a varied program of activities such as sports events and competitions, group games, martial arts for kids, thematic workshops, music, arts and crafts, walks in the city of Plovdiv, visits to different sights and events.
Volunteers who are interested in learning more about the complex world of autism are encouraged to join the program working with children having an autistic spectrum disorder. Volunteers will provide positive experiences for these kids and encourage meaningful, interactive behaviours and social skills through activities and games.
Some of the planned activities for the volunteers involve maintenance tasks around the home, such as cleaning, painting or moving furniture.
Because of the lack of funds and the difficult economic situation of these social establishments in Bulgaria, the volunteers are invited to contribute with their creativity, enthusiasm and ideas. Over the years, the experience has proved that without costly events, this can be a really rewarding and unforgettable time for the volunteers and the youngsters.
Aims of the project:
- to establish intercultural social contact between the children and young people from different countries
- to improve the communication abilities of the children in informal environment
- support in organizing different cultural and sports events
- to offer opportunity for the children to learn practical and living skills, and habits for self-dependent living
- providing informal atmosphere for foreign language practice for the children
- maintenance of the building and the orphanage grounds, which would help for forming right attitude of the children for keeping the property
- to promote charity and voluntary work through involving the young people from the orphanage in common activities
Language: English
Accommodation: Accommodation is provided for the participants at the orphanage boarding house. Sleeping bags are not needed. Volunteers have their food prepared by the cooking staff.
Terminal: The nearest international airport is Sofia Airport (SOF).
Age range: 18 - 35 years old
Cadip volunteer project reviews:
"Really good and lots of fun. A balanced program of activities and also allowing us to experience Plovdiv's nightlife was an essential part of the experience. The workcamp has made me more aware of how important it is for volunteers to come and interact with the children. I have definitely become attached to this place and the children, and have been generally affected by what I have experienced."
Katie Spong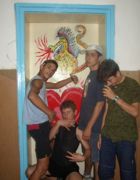 "Overall I think the workcamp is very good. The main emphasis was on being with the children rather than doing maintenance at the orphanage.
Everyone in the group was open-minded and easy going."
Nora Gregory
"It has been hard work, but very enjoyable working with the children and completing projects for them. I liked working with the children – teaching English, music lessons, going out on day trips. I felt that they really valued our presence here and enjoyed everything we did. Relations with them have been great. I have learnt a lot about myself and other people – how to deal with difficult situations and how enjoyable and satisfying it can be to work as a team for the sake of the children. This is a great opportunity to give something back (mostly time and attention) to children who have very little."
Rachel Halstead
"It was very fun and active, everybody got along and made an effort. I liked being with the children – seeing them happy makes me happy. The workcamp learnt me to adapt to a new environment and to care for others."
Sayha Sam
"At the beginning I was too shy with the children, but now I think it was a very good experience for me for several reasons. You feel yourself needed and you understand better the importance of parents."
Tiphaine Cochennec
"One of the best holidays I ever had! I loved being with the kids. It's amazing how friendly they are. I spent wonderful moments with the other volunteers as well. We got on well together. A lot of fun. It's worth doing it!"
Annie Daval
"I had a lot of fun and felt very welcome. The kids are lovely and I enjoyed meeting them and all the people here. I liked most playing and interacting with the children, taking them out and playing games at the orphanage. I had a wonderful two weeks and felt my time here was put to good use."
Hollie Nixon
"The children were very nice and they made me learn a lot of things about relationships. Everybody was very good and "bon vivants". I liked to communicate with children without words but only with "loving". I liked all the time spent with them. I want to come back to Bulgaria!
It's a "top experience" for making friends and discovering another country."
Marie Le Borgne
"A brilliant project in a beautiful, vibrant city! I would recommend it to everyone. I liked most having parties with the children in the evenings and spending time on the terrace with the other volunteers. I have absolutely loved bonding with children. Learning how to get on living with a group of strangers was important."
Natalie Haynes
"I was worried about the relations with the children and teenagers but everything went very well, it's amazing to see that they enjoy little things and simple games without asking for more."
Hugo Trentesaux
"I spent two great weeks in Plovdiv and I had a lot of fun moments that I'll remember forever. It was a great experience to work and play with these children. I liked very much playing with them soccer, dodgeball and actually all the games that we played in the backyard. I learnt a lot of things about the other side of life, that of the children in the orphanage. I think that I became a better person."
Aurora Spartak
"I thought it would be more difficult to spend time with the children since we don't even speak a word in Bulgarian but that wasn't a problem at all, we didn't need to use the same words to communicate. I liked playing with the children and teaching them break dance. I liked the talks we had with them even if we didn't speak Bulgarian (strange but not impossible)."
Abdellatif Benzakri
Bulgaria projects slideshow:
---
click here for volunteer programs in other countries